Why are pearls popular among influential women?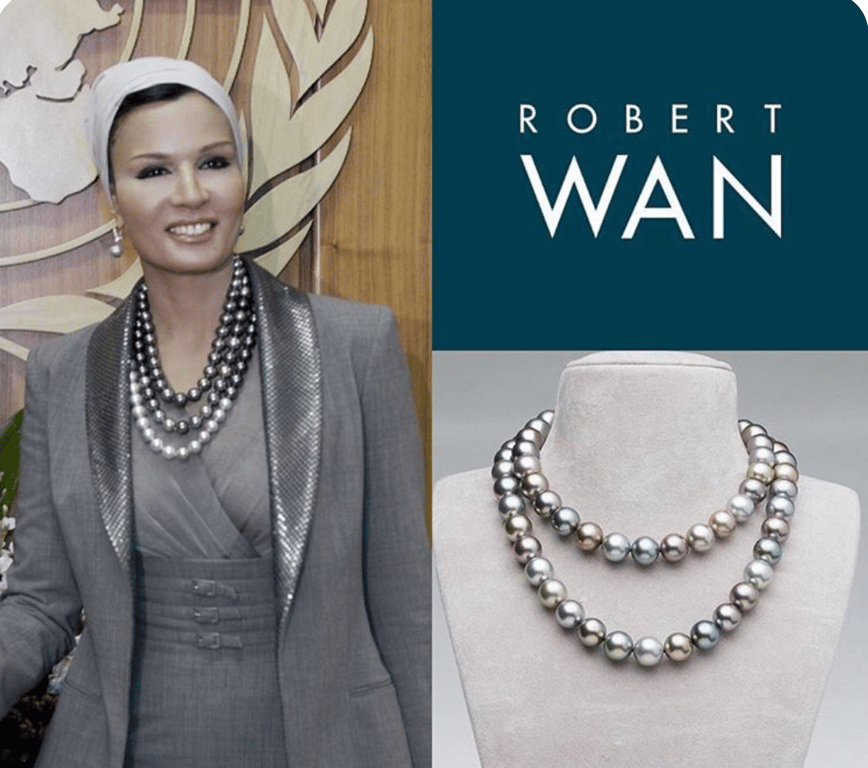 Sheikha Moza former Emir of the State of Qatar, co-founder and chairperson of the Qatar Foundation wearing stunning pearl necklaces from Robert Wan's Diva collection
The age of female empowerment has dawned on us and will continue to spearhead the path of gender equality for years to come. Over the past decades, the world has witnessed the rise of female leaders and trend setters in almost all aspects and walks of life. For example, there are now more women in the US Congress; women are getting more challenging, deeper and meaningful roles in the film industry. Regardless of the role they play, women are increasingly looking to pearl to symbolize their power, status and authority; to externalize the believe, boldness and confidence that have always been within them and as a symbolic gesture of togetherness and indebtedness to the pioneering champions of women rights of yesteryears. Who are some of them and why pearls are their choice of gems?
American movie icon-turned-princess, Grace Kelly lived and breathed pearls. Revered and venerated by women all over the world for her classic and charismatic fashion, she very much adored pearls.
Princess Diana was the ultimate modern, approachable, much loved and respected princess. She was a welcomed relief and a breath of fresh air to the stiffness of the British Royal family when she first appeared in our lives in the late 80s. She was an amalgamation of timeless charm, true warmth and a caring, loving demeanor.
Audrey Hepburn, a film and fashion legend, was never without her pearls, even when appearing off-screen. She preferred simple minimalistic fashion; always having her monochrome dresses paired with pearl jewelry which launched a whole new fashion trend then and maybe now too, described as classically sophisticated.
Perhaps no other woman has done more to popularize pearls than Jackie Kennedy. She would wear them in almost all of the functions she attended whether it was held in the White House or overseas. Her timeless quote "Pearls are always appropriate" helped launch and inspired a new generation of pearl lovers.
Marilyn Monroe simply revered pearls. With her glamorous Hollywood fashion, her dresses and jewelry were naturally beyond the grasp of most of her female admirers and followers. Fortunately, they were however inspired by her, at times, daring but yet feminine demeanor. Case in point was when she wore her long strings around her silk scarf! Who would have the audacity and confidence to pull that one through but her ?
Emma Stone's portrayal of Abigail Hill in the award winning film "The Favorite" had her wearing more and bigger pearls as her rank steadily rose throughout the storyline. In real life too, Emma choose an engagement ring with an 8 mm Akoya pearl in the middle.
Kamala Harris is being looked up by women worldwide as she seamlessly juggles politics, motherhood and fashion icon with relatability and ease, no small thanks to her love for pearl (remember the stunning black Tahitian pearl necklace she wore to her inauguration as US Senator in 2017 and the bespoke pearl and gold chain she donned when sworn in as Vice President in 2021?). Her ever present pearl makes her look fresh and distinct regardless whether she is in her suit or jeans.
Today, pearl is an obvious choice of women CEOs, politicians and leaders for it exudes an air of authority, dignity and femininity; it is their power statement. It effortlessly matches and complements their hem suits in the day and cocktail dress for the evening.
How Do Pearls Manage To Achieve This ?
For humans, nothing is more profound, all embracing and all encompassing than nature; and no other gem is more completely attuned to this than pearl. A pearl's color, shape and size very much depend upon the environment it is grown in, in turn nature also has decreed that the size, shape and color of the pearl will also help define the personality of the woman wearing it.
Pearl is beautifully attractive and eye catching; it abundantly and effortlessly imparts and radiates graceful poise, strength, femininity and class. It illuminates the face of the wearer and enhances her inner glow. Historically, women have gone through and suffered a lot over the years but still come out shining, much like her pearls!
Above and beyond that, it symbolizes love, good health, luck and prosperity while remaining chic and modern. Such is the all round magnetic pull of pearls.
It would be remiss on my part if I do not mention that men,of late, are including pearls as part of their jewelry. This should not come as a complete surprise because as early as 2300 BC, Indian Maharajas and Chinese monarchs and nobility started to adorn pearls. The Polynesian warriors meanwhile regarded them as amulets and wore them to proclaim their power and ferociousness. Almost all of Charles I's, The King of England, portraits would have him adorning a single large teardrop-shaped pearl earring.
Pearl is trendy and stylish, it looks good on men, makes them feel courageous and confident about stepping out and challenging societal expectation with the aim of molding society to be more tolerant, open minded and more acceptable to gender bending; these are just some of the reasons why men took to pearl.